WITH 24 TAPS AND TALENT IN THE KITCHEN, ST. JOHN'S NEWEST BAR IS SO MUCH MORE
EASTDUCK ADVENTURES
Over the last few years, the East end of Duckworth St. in St. John's has become the home of three new food and drink spots on the cutting edge of cool places to be. Individually, each has its own unique charm and aesthetic, and together they make a vibrant community that trades in tooth-and-nail competition for cooperation, making for a wholesome community vibe with something for everyone.
This week we're starting our "Eastduck Adventures" series — a three-part feature exploring downtown St. John's newest food and drink centre: East Duckworth. Powered in part by beer, food, and young entrepreneurs, downtown's new George Street alternative is certainly something to keep an eye on.
Before they opened, The Herald met with Craig Farewell and Steve Martin of the newly opened Brewdock Beer Bar & Eatery about their new joint.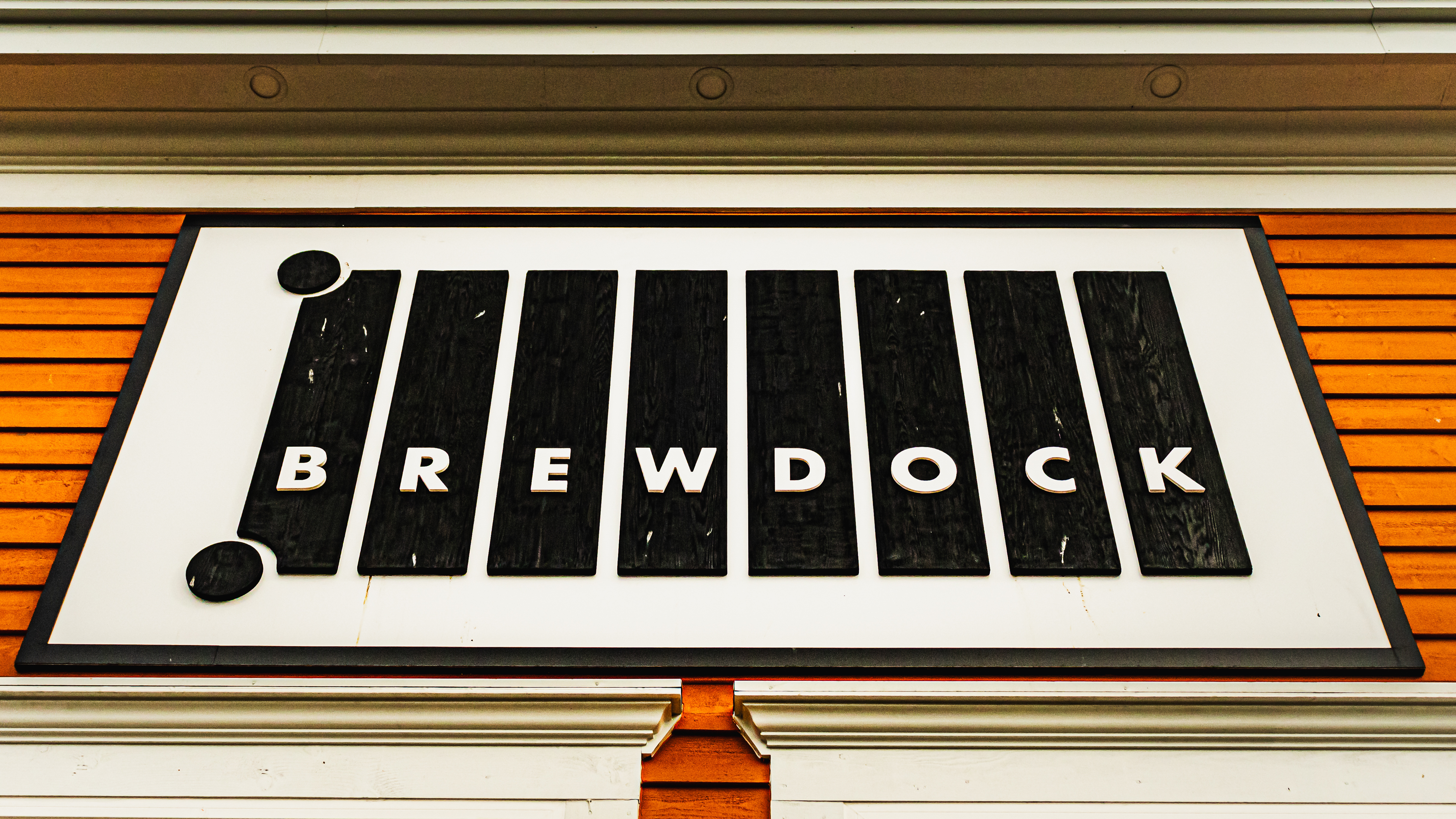 ---
RELATED: POPULAR
Artist Spotlight: Meet Mom's Girls
Alick Tsui: A Passion for Photography
Meet the Mainland Kitchen Band
---
CRAIG AND STEVE
The duo first met in university, where their mutual interest in the yeasty yellows quickly became apparent. From 2011 to 2015, Craig lived in Halifax in a time he called the craft beer boom when many great local breweries took shape. Meanwhile, Steve had been organizing the NL Craft Beer Festival, and when Craig returned they reconnected over beer tastings, and the two would go on to organize The Festival together. A few years later an inconspicuous exchange market Brewdock's beginnings:
Craig: We reconnected like I never left, and Steve was in the whatchamacallit — it was in….

Together: The Legion parking lot!

Steve: I was getting into my vehicle; Craig was getting into his – I say 'oh Craig, we should look into a Stillwell for here' and he's like 'yeah man, I always wanted to do that..

Together: And that was it.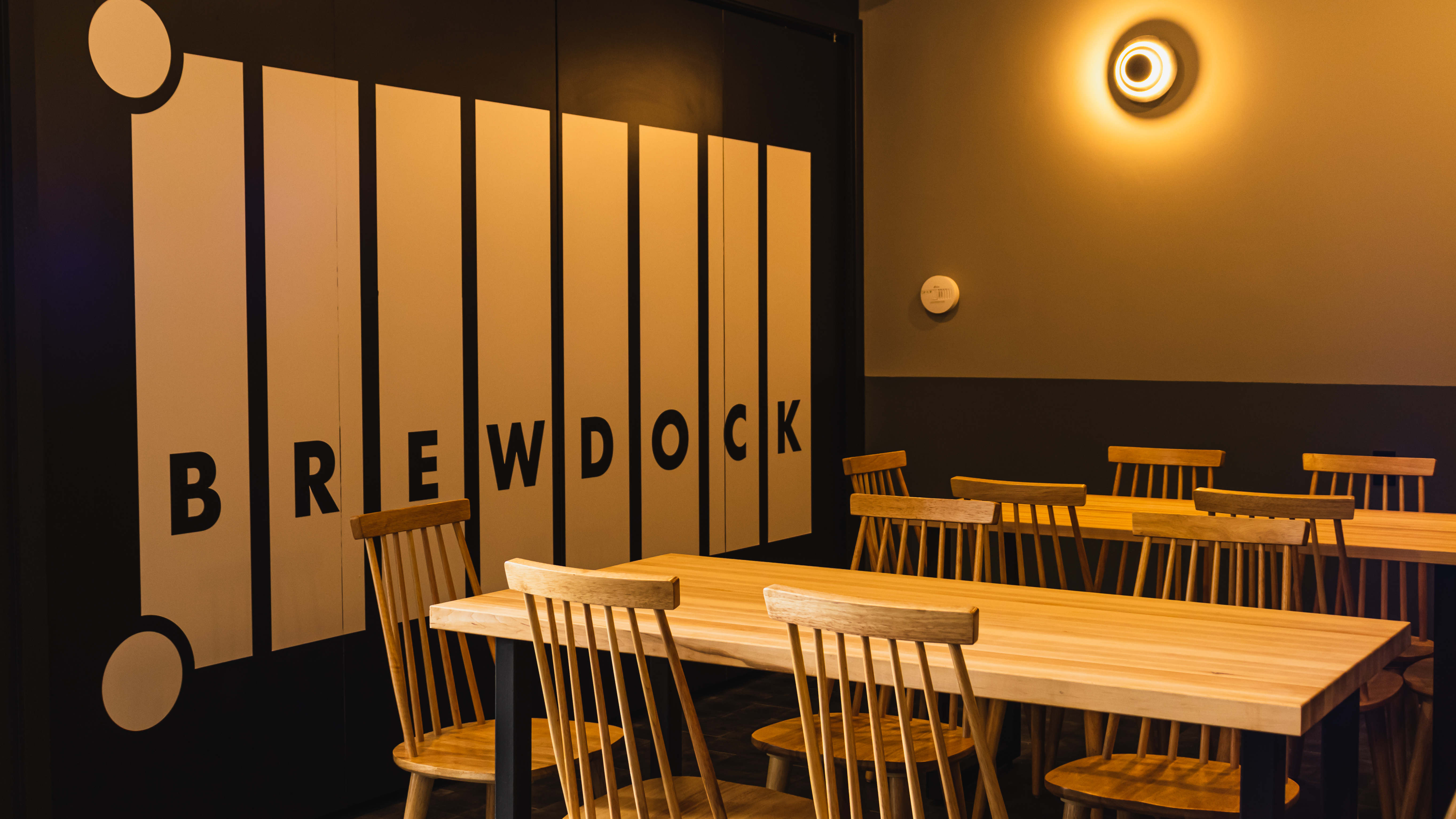 THE RIGHT MOMENT
Craig tells me that one challenge of opening a beer bar here on The Island is that importing beer is tough, and when he returned from Halifax, the time wasn't quite right. "When I came home in 2015, there were only three craft breweries in the province," Craig said, "so it needed to wait until a critical mass of breweries got on the go so we could have as much local product as we want."
Since having that thought years ago, a number of breweries have opened their doors to customers and opened their arms to each other. "When I first came back, I got in with Port Rexton [Brewing] and basically every brewery that opened up after was there to help each other because that community was so small," Craig explained. "The help that we've gotten from all of them to finally do this is amazing."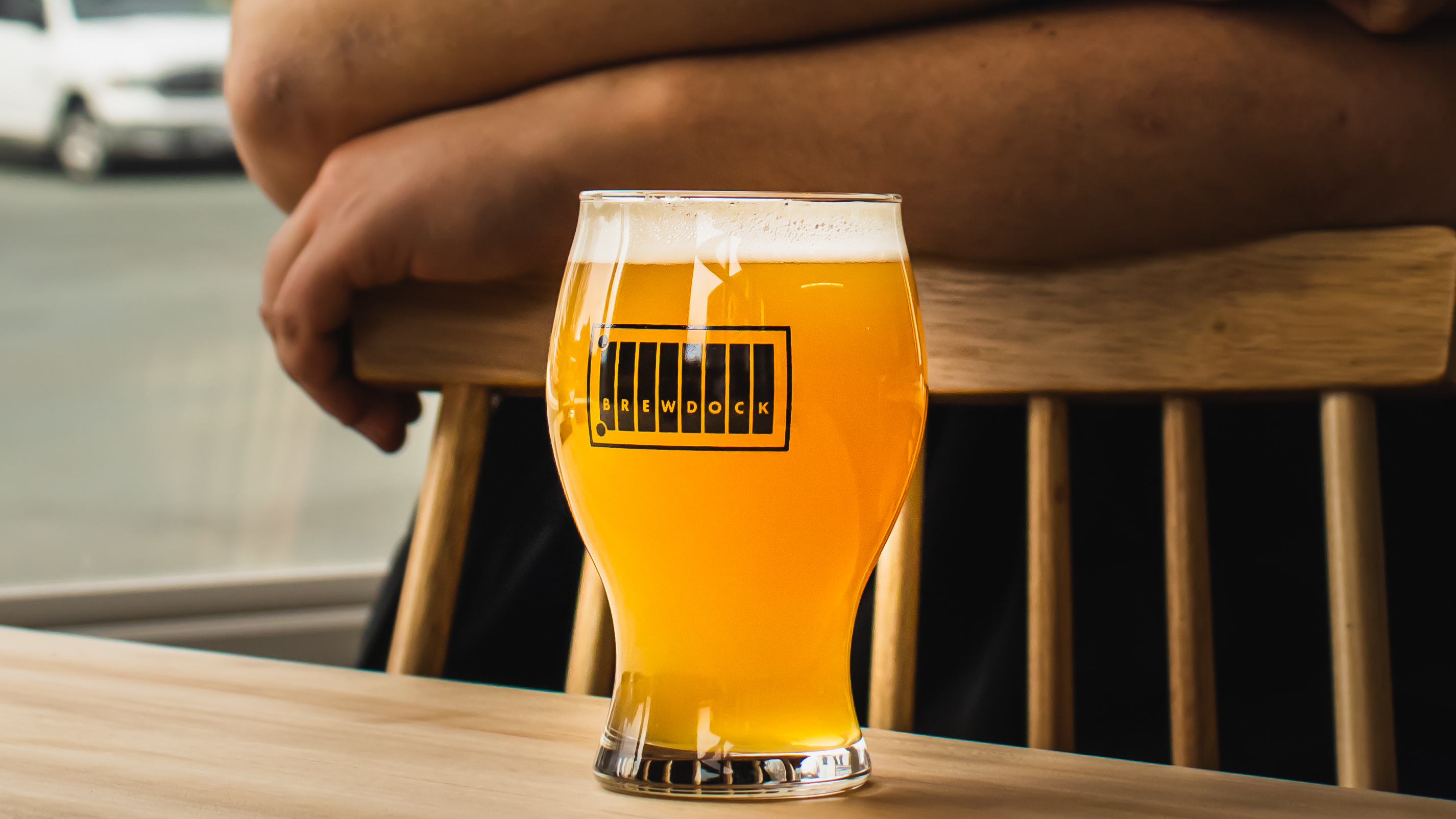 AN IDEA EVOLVES
Initially, the plan was to create a taproom and go from there, but pandemic-related delays gave them plenty of time to talk grub with local chef, Chris Mercer. "…our vision was solely beer first," Steve tells me. "But having Christ on board for the food just helped us evolve into what we are today."
Steve: We never envisioned what we're going to have starting thursday with the food…

Craig: …beautiful plating — all those aspects of it. And he was in the same independent-producers-come-first mindset, but with respect to the food, so he's been very complementary…

Steve: And every plate they bring out, I am just in awe of their talent and it allows everything to come together in this place.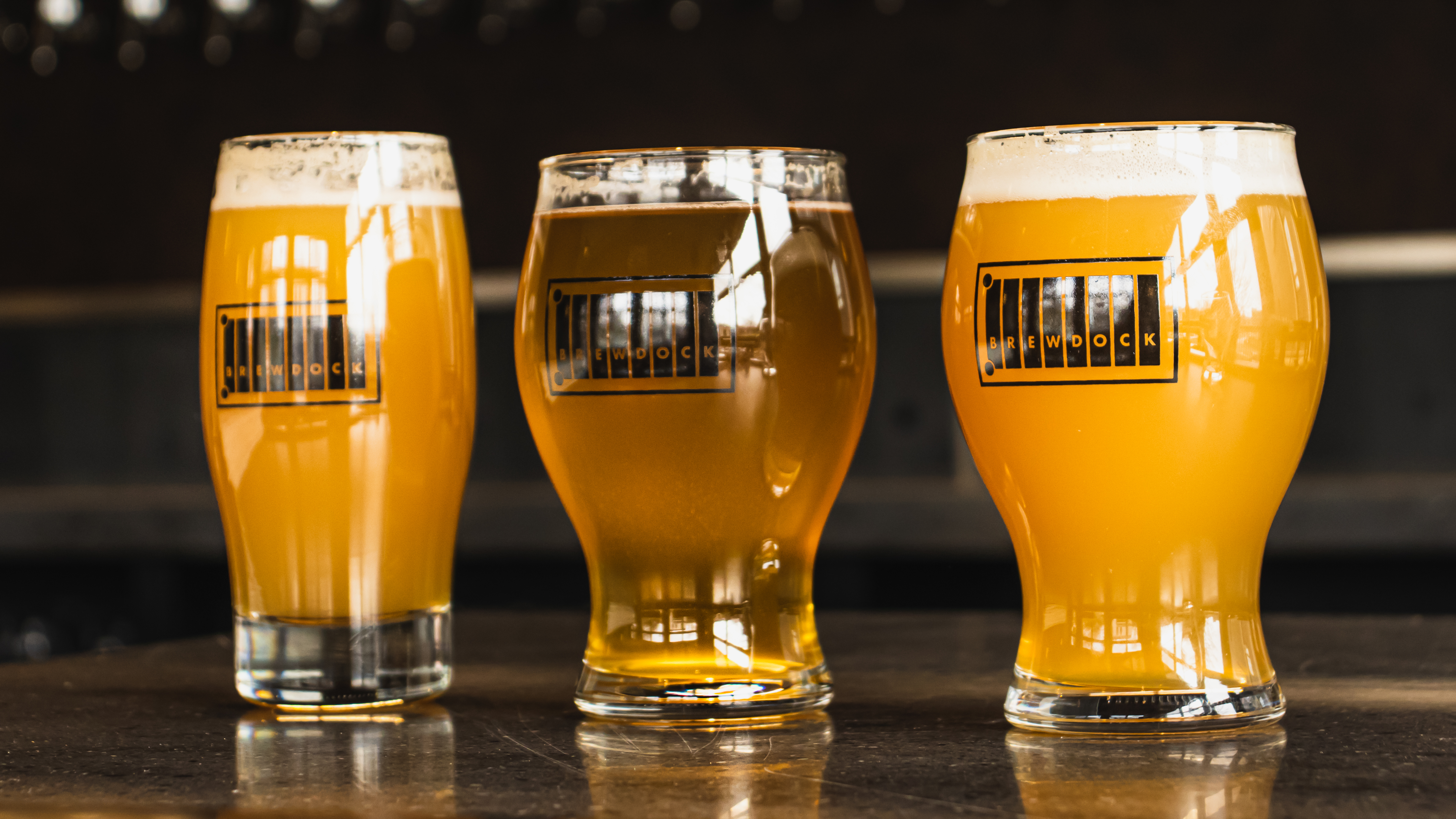 THE DRINKS
In total, Brewdock has room for 24 beers on tap, with 22 typical taps, and 2 pilsner taps, so there's plenty of room to spare, and plenty of beers to choose from. Right now the beer bar has beers from Port Rexton, Quidi Vidi, Bootleg Brew Co., and more. When we went, we tried a gluten-free sour from Port Rexton and it was an absolute treat on the taste buds and my weak tummy, too.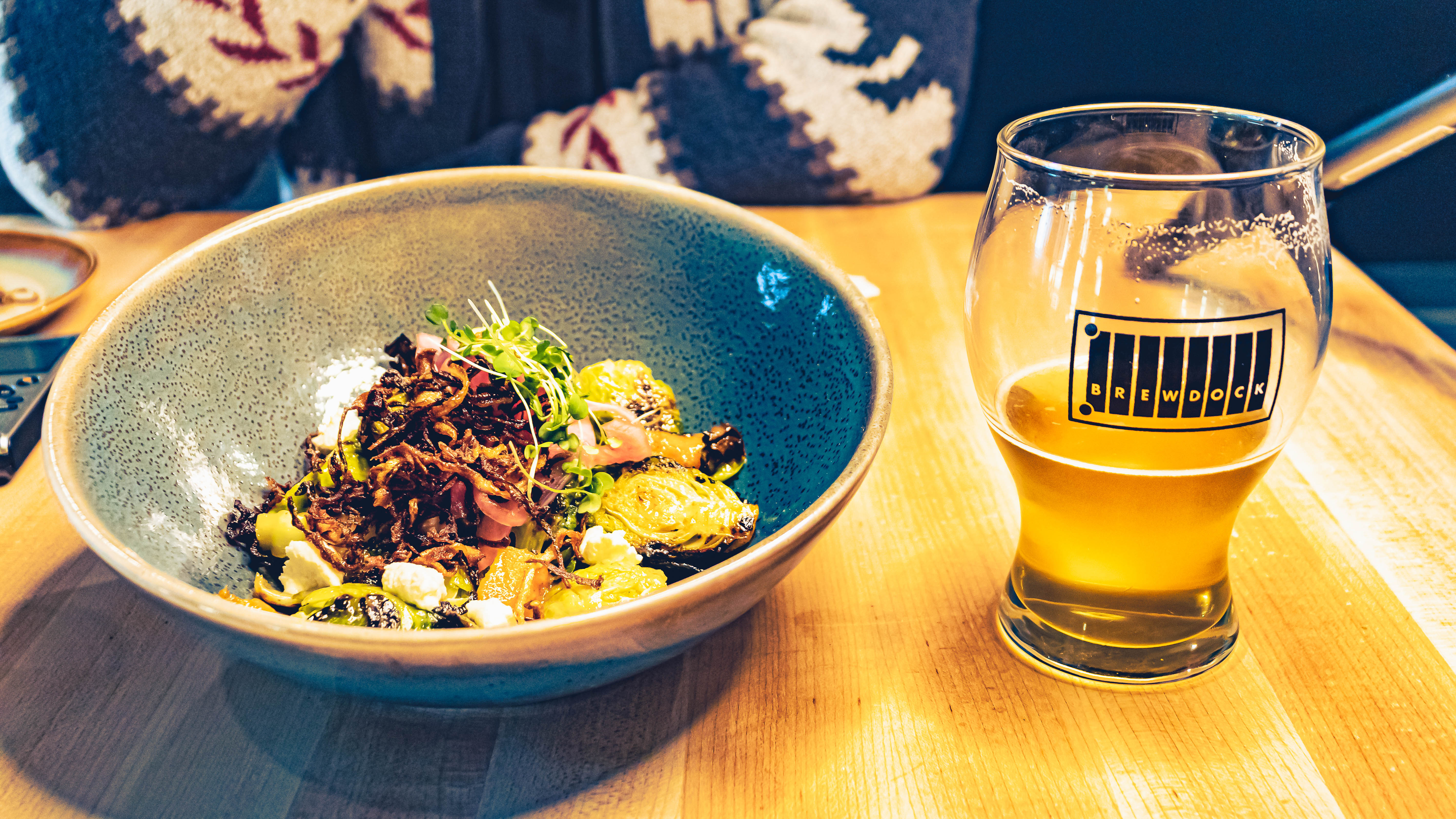 THE FOOD
Craig and Steve weren't exaggerating in the slightest, and Chris Mercer is quite clearly a magician in the kitchen. Case in point: when I asked the kind server for recommendations, I didn't leave when they said brussel sprouts (pictured above)— which the cool kids are apparently just calling "Brussels''. We also tried the Ginger Pork Dumplings (not pictured) because I can never turn down a dumpling, and the Brewdock Burger with Fries (pictured below) — a plate I inexplicably opted to share.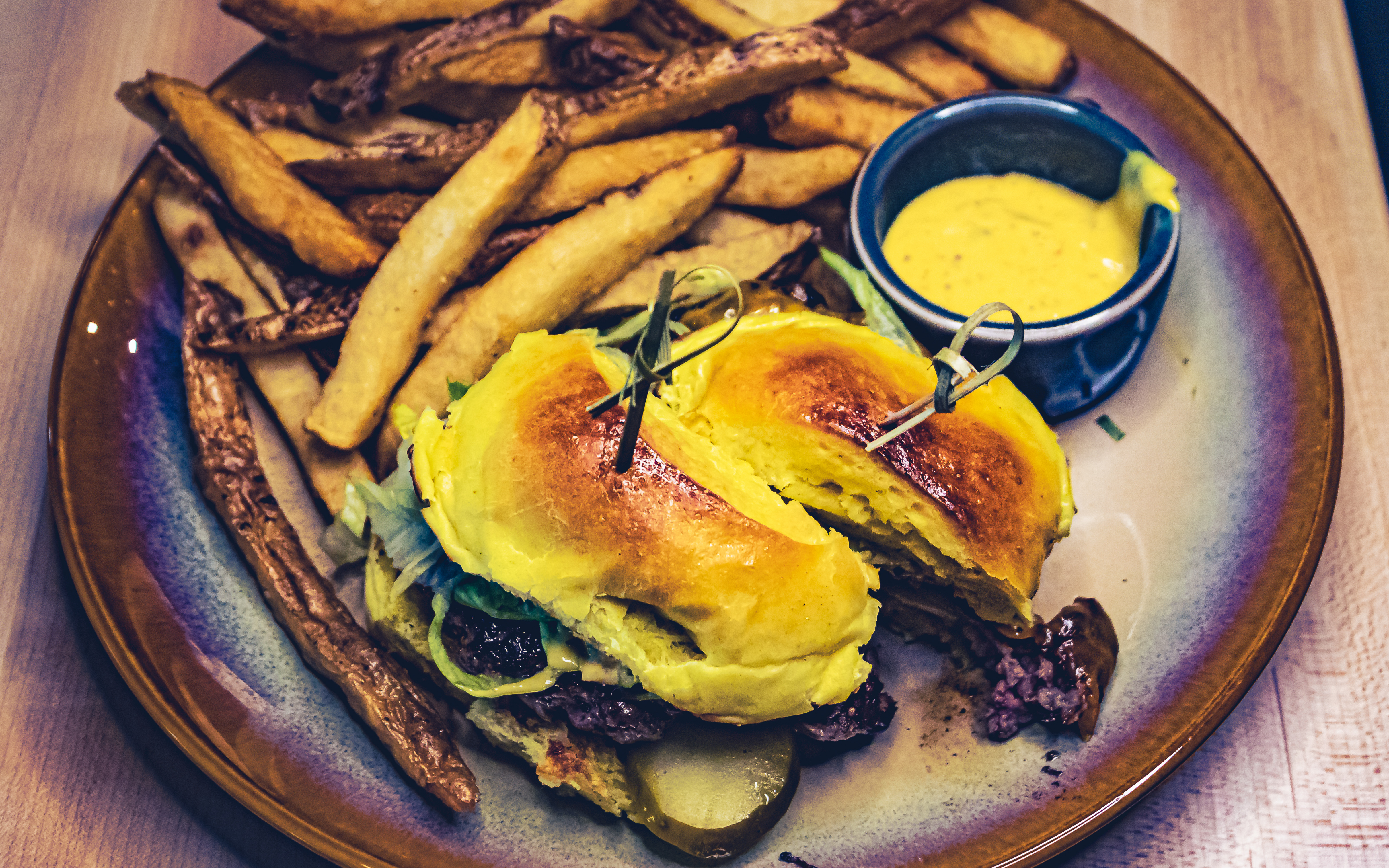 THE EXPERIENCE
Overall the evening was incredible and we stayed much longer than we thought. The staff we spoke with were friendly, engaging, and fascinating in their own right. As for the food, the brussels were definitely my stand-out food item, and along with the dumplings they make for a great sharing plate. Beer-wise, Port Rexton Gluten Free Sour takes home this intern's virtual gold medal and if I had one, it would be #1 on my list of "beers I would drink for breakfast."
Follow our new Instagram page for updates, photos, and more!
#EASTDUCKADVENTURES appears in the magazine first. To read next week's special feature on BANNERMAN BREWING CO. a week early, subscribe to the physical issue here!
Find BREWDOCK's 24 taps at 85 Duckworth & Stay in the know by checking out their Facebook, Instagram, OR go to BREWDOCK.CA.